What's your handbag worth?
This is my entry into MoneySupermarket's What's in your Handbag? competition. MoneySupermarket are trying to find out if we know how much our handbags are worth and not just the handbag itself (we're not all lucky enough to carry designer, darling!) but the contents too. When you add up the total of the bag as well as the precious daily survival kit you carry inside, the average handbag is worth a whopping £850! Whilst you may be covered for the things you carry outside the home every day under your contents insurance, it's best to check so you're not left bagless and broke!
Here's how I add up ~
The Bag(s)
I actually carry 2 bags every day, my handbag which contains my purse, mobile phone, bus pass etc and my Tote, in which I carry my lunch, my Slimming World bible and whatever I happen to be reading at the time.
My Handbag – I have quite a few handbags but this is the one I'm currently using. It's from Next and cost £28.
My Tote – The cat design one is possibly the most designer thing I own, Lulu Guinness don't you know! But as it was produced for Comic Relief, it only cost £5 :) The other is a Cath Kidston oil cloth book bag I treat my to on a trip to London, £18. I carry one of these bags to work each day along with my handbag.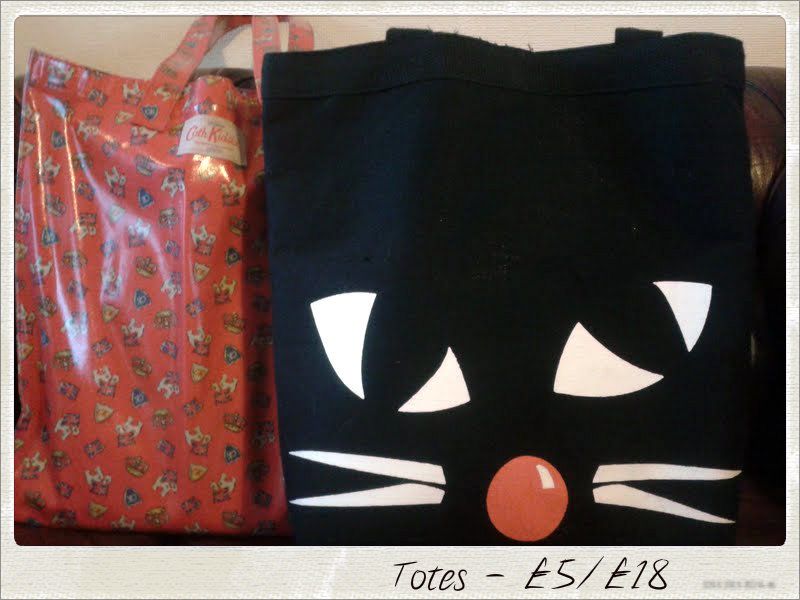 The Contents
My Mobile Phone – I would be lost without my phone, although we're not allowed to use our phones at work I'm always checking my texts/emails/Facebook etc when I'm on my breaks and on the long journey to and from work. It also helps me keep in touch with Mr Melvis on the weeks where our shifts don't match at all and we don't see each other til the weekend and to stay in contact with my Brother who live 250 miles away.
I won a Samsung Galaxy Advance last year and I love it but if I lost it it would cost me a massive £200 or more to replace!
My purse – Although it never has much money in, I adore this gorgeous purse from White Stuff! It cost £32.50 (paid for with vouchers that I won as I'd never spend £30+ on a purse otherwise!) and it's really pretty and also very handy with it's host of card slots and sneaky pockets.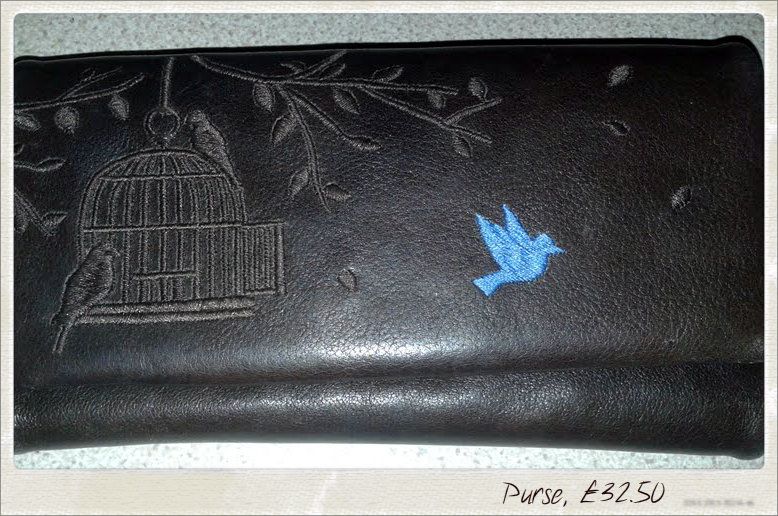 My collection of Notebooks – Yes, I have notebooks for everything! The big Paperchase Owl notebook is my general scribblings/ideas book. The lovely green/grey one is part of a trio of notebooks my Mum bought me for my birthday, it holds all my Day Zero ideas and achievements. The one with keys on is from Wilkinson's stationary collection and is my Diet Food Diary and the beautiful Gorjuss jotter is for my lists – I love lists! Whilst the notebooks themselves are probably worth no more than £20 in total, their contents are invaluable!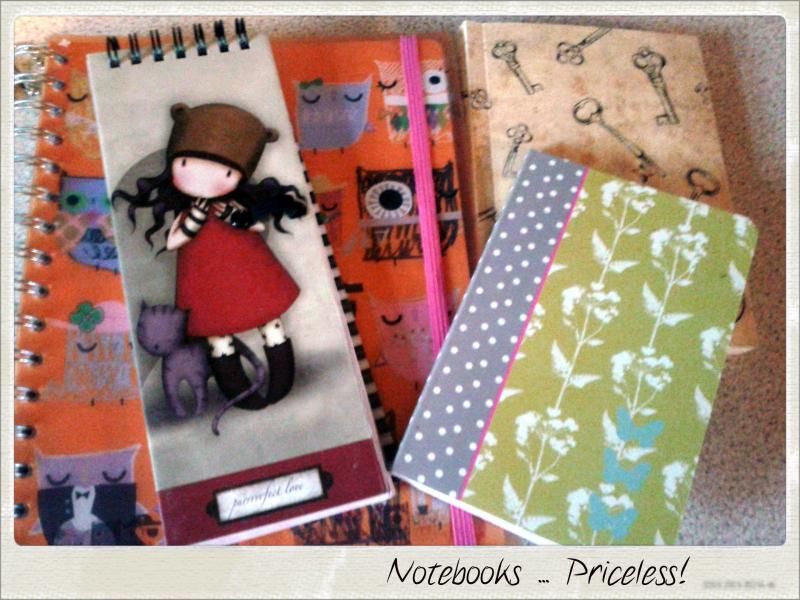 My Diary - Another Gorjuss item, I buy one of these beautiful diaries every year – £8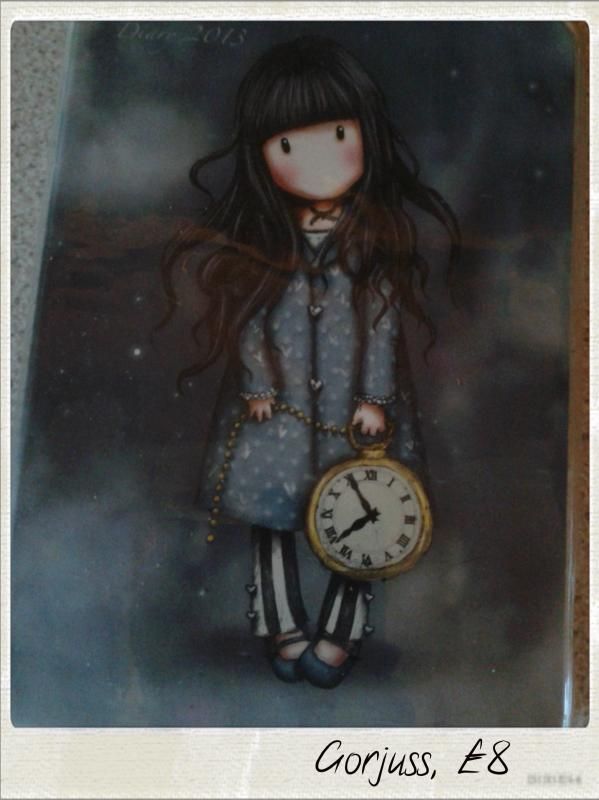 Books – I always have a few books in my bag – the one I'm currently reading (plus one to start if I'm nearing the end of my current read), plus books to lend people at work and books they return to me. Then there's the books I buy on the way home from work, which happens quite often! The paperbacks I buy are normally around £7.99 (RRP) and I can be carrying up to 6 at a time, it all adds up!
Perfume & Make Up – My days out at work can be long and I like to have a nice freshen up at lunch-time. My favourite perfume is Marc Jacobs' Lola (£47 for 50ml) and I'm an Avon make up fan – Smooth Minerals Powder Foundation (in Ivory, if you're interested) £10.50 plus Kabuki brush £6, SuperDrama Mascara £10 and Cosmic Eyeshadow £8.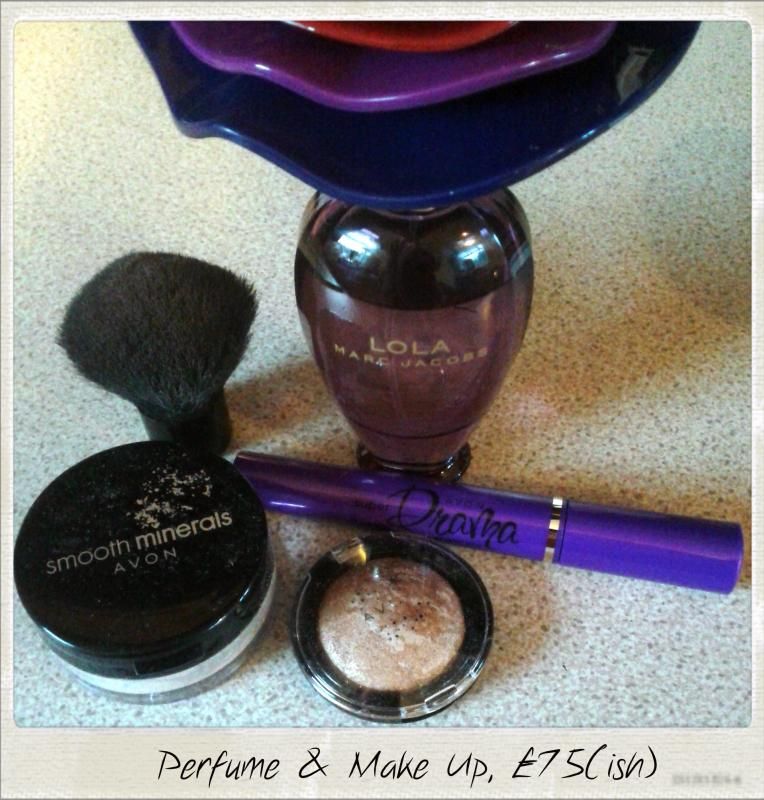 Hand Cream – An office essential, my hands get so dry! I currently use Soap & Glory's Hand Food, £5.
I also carry my weekly bus pass (£11.80), my work security pass (£10 to replace), my lunch (not really worth anything of value, but I don't want to go hungry!), in the winter I have my gloves (White Stuff, £18) and on a daily basis I have a large supply of dog poo bags (Bob Martin, £1.19) ;)
That means the value of handbag plus daily contents is £501.93 or more!! Whilst way below the average, it's still a lot more than I'd considered myself to be carrying around on a daily basis. Maybe I should employ a Body Guard?! Or at least check that I'm covered …